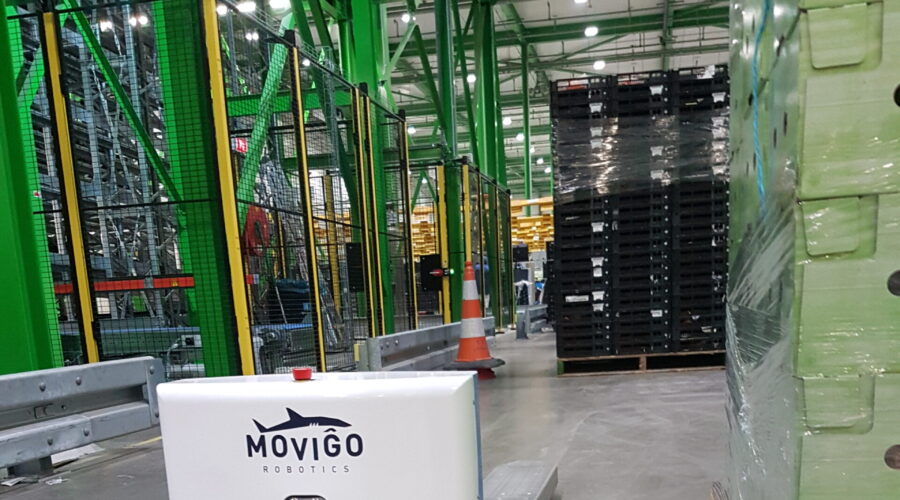 10/08/2020
"Carnivore" performs veggie transport at W. Heemskerk Fresh & Easy
Autonomous Ŝharko10 goes live in the food sector.
One of the largest fruit and vegetable processors in the Netherlands – has been using most compact industrial AGV, Ŝharko10, for its internal transport since this week. The company delivers 3.5 million fresh vegetable products to supermarkets and restaurants every week. The cutting, washing, drying and packaging process is almost entirely automatic. The Ŝharko10 is a safe, hygienic and efficient solution for transport in the narrow areas of the refrigerated warehouse
The Ŝharko10 is an autonomous AGV(AMR) that together with the special software systems and integration offers a solution for the internal logistics of the production processes. The Dutch MoviĜo Robotics developed the compact AGV especially for places that are normally difficult to operate. The vehicle is (l x w x h) 136 x 56 x 43 centimeters and turns within its own length. "This gives the Ŝharko10 maximum maneuverability in narrow passages. That was one of the reasons for W. Heemskerk Fresh and Easy to choose our solution", says Paul van der Hulst, managing director of MoviĜo Robotics.
Safe working environment
A big challenge during the implementation was finding safe routes, because the vehicle travels through areas where many people are working and there is a lot of manual traffic. The AGV navigates autonomous between intensive manual traffic and brakes and stops automatically. "To work as efficiently as possible, it is therefore important to find the least congested route to experience as little delay as possible. The "Shark" initially replaces personnel on busy routes close to machines at Heemskerk. This provides an even safer working environment", says Van der Hulst.
Clean
W. Heemskerk Fresh and Easy ensures that vegetable products are fresh on the consumer's plate within 24 hours. "The turnover rate is very fast, so efficiency is important. But hygiene also applies to the highest level," emphasizes Van der Hulst. "The Ŝharko10 is electric and does not use hydraulics. This makes this AGV ideally suited in food, pharma and healthcare, because you do not have to deal with oil residues in the vehicle where dirt could stick to it.
Home
MoviĜo Robotics not only supplied the AGV, but also the accompanying software. This was implemented in early 2020 to work together with the current systems of W. Heemskerk Fresh and Easy. The necessary WiFi has been installed in the warehouse and cameras have been installed to support the vision software that finds free locations. The robot was then installed, Pick-up and Drop-off points defined and routes created. The Ŝharko10 is specifically at home in environments where normally manned pallet trolleys would be used.
Tough job
The AGV works for nine consecutive hours, has to charge for fifty minutes and can then be used again for nine hours. Van der Hulst: "The return of investment period is well within three years. Heemskerk is growing very fast and, like many production companies, has a tough job finding staff. Heemskerk can save one FTE per shift with the implementation of their first Ŝharko10."