Ŝharko5 AGV/AMR
Ŝharko5 AGV Industrial trolley transporter
The Half (EURO) Pallet Transporter
The Ŝharko5 is a extreme compact industrial AGV that transports half (euro) pallets and small trolleys. It will operate in areas where floor space is scarce and can work perfectly together with hardware devices. A true industry 4.0 solution.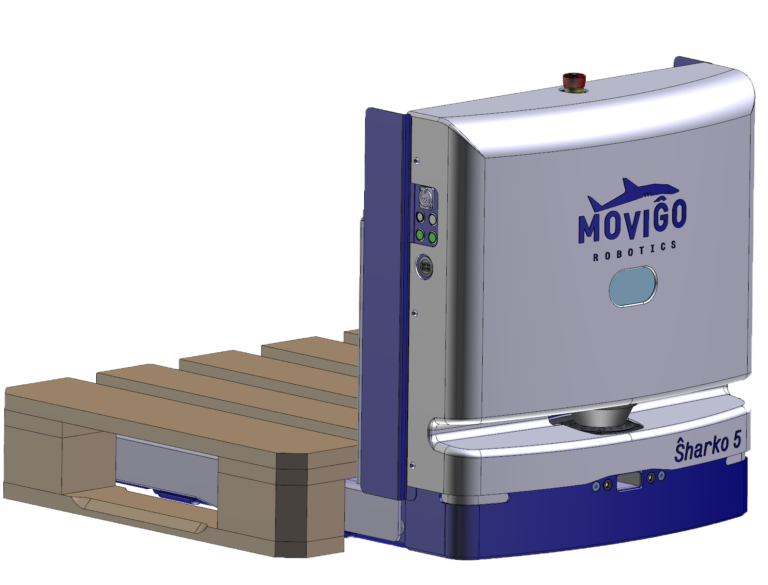 Automating intralogistics
We have have developed a compact industrial trolley transport AGV to support your production and intralogistical processes. This AGV delivers high capability in an extreme compact design.
The pallet AGV Ŝharko10 is especially designed to support the transport of goods and materials in production environments. It will operate on the factory floor, where it will replace manual transport of trolleys between different production or assembly lines, between production lines and warehouse, packing or shipping locations. Our solution can minimise the amount of manual labour throughout your processes. Because the vehicle navigates autonomous, no physical changes to its area of operation is required.
Ŝharko5 AGV characteristics
To enhance your workfloor processes and supply your organisation with more relevant data the vehicle collects data through:
Designed for production
The Ŝharko10 is especially developed to organise the transport in and around assembly, production and logistical processes. E.g. delivery of raw materials, parts, packaging, semi- & finished products. Many of the horizontal transport that is executed with manned vehicles can be performed with the Ŝharko10. It will maximize the capacity of forklifts and reachtrucks and minimize manned transport by performing many of the horizontal transport from highrise storage area's to distribution or production areas. It's ultra manoeuvrability makes it highly suitable for small and narrow areas and lanes. It's small footprint and height, allows for using different routes when loaded or empty.
Suitable for:
Print shops
Pharma & Health care
Food production & packaging
Automotive
Manufacturing
Assembly
Do you want more information about the Ŝharko5?